At UP Market Media, we talk a lot about reach. One of the ways to measure the success of a social media post is by analyzing the reach obtained. But there are two types of reach: organic and paid. What's the difference?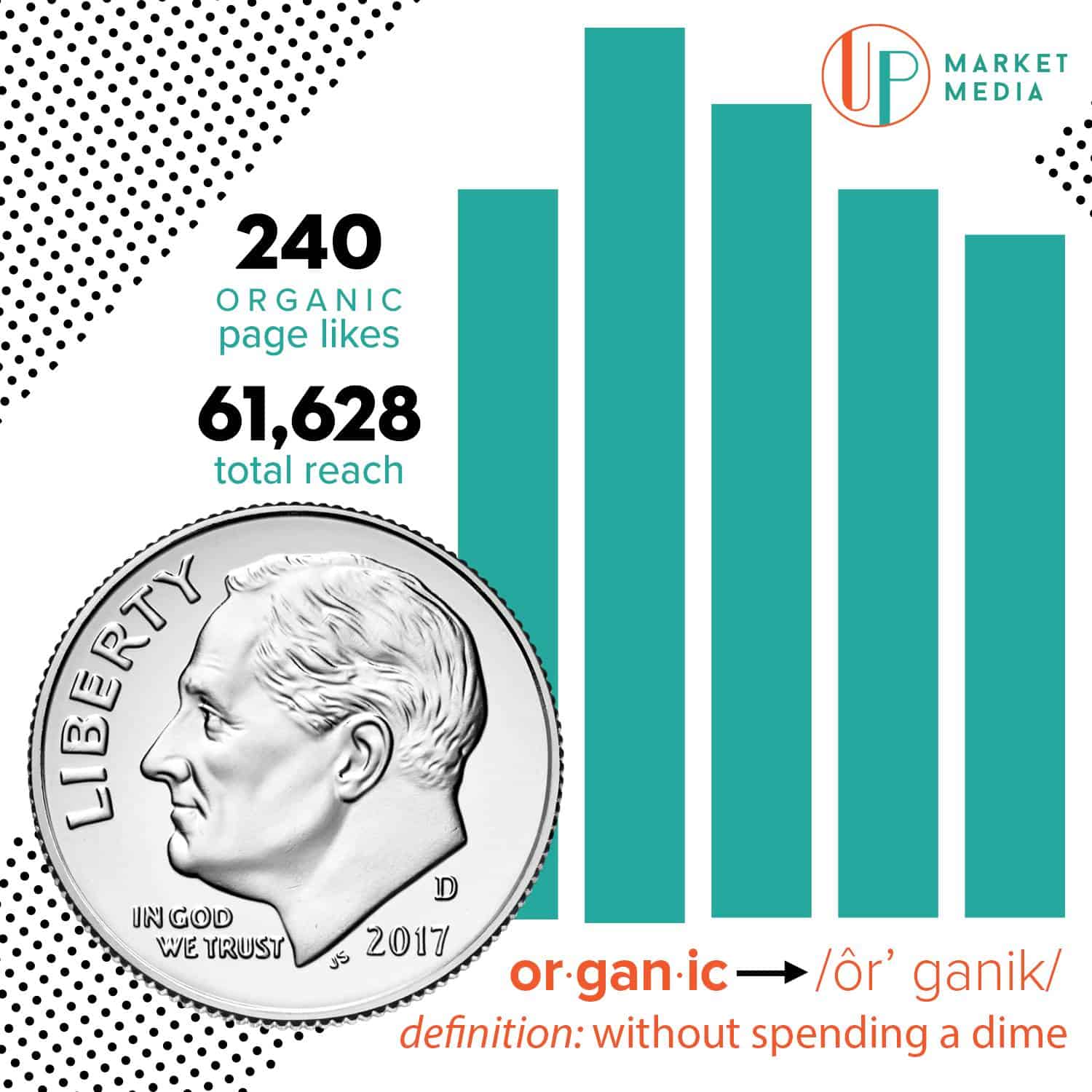 Organic Reach
Organic reach calculates how many people had an unpaid post from your Page enter their screen. For example, if a car dealership posts a picture of a customer with the new car they just purchased from the dealership, and they don't pay any money to "boost" the ad, the reach gained from that post is "free", or unpaid. Reach does not take into account interactions with the post (ex: likes, shares, comments, video views, etc.), but interactions with posts on your page DOES increase the likelihood that more people will see your posts in their newsfeed. Check out our blog 4 simple ways to increase your organic reach on Facebook to learn more about how to increase your reach.
Since organic reach means people see your page's posts for free, of course you want to make the most of it. With our Social Media Management service, our goal is to help your average organic reach increase steadily over time, and build your organic social following.
Paid Reach
Paid reach is defined as number of people who had a paid post from your page enter their screen. Paid reach includes boosted posts and targeted ads. If your post reaches someone's screen through both paid and organic distribution, they are counted toward each.
Paid reach is a great way to kick start your Facebook page, promote your business, and gain new customers. When you are just getting started, you won't necessarily have the following that you need to get a good organic reach. Creating well-designed and specifically targeted ad campaigns along with boosting posts can gain the attention of your desired audience quickly.
Make social media work for your business
While some businesses have the time and resources to manage their social media accounts in-house, many businesses actually benefit more from working with a marketing agency that knows the in's and out's of social media marketing.
At UP Market Media, we take the time to understand our clients' business inside and out, so that we can formulate a plan to help achieve the business goals through effective Social Media Marketing. We create a detailed plan, craft the message, and combine with the right visual components in order to appeal to the businesses ideal customers. We then dive into analytics and competitor research to measure the results and develop a plan for the future.
All of this, combined with our extensive experience and open communication help achieve growth for our clients, month after month. Visit our Social Media page for more information, and schedule a consultation to see how we can help YOUR business achieve amazing results with Social Media Marketing!